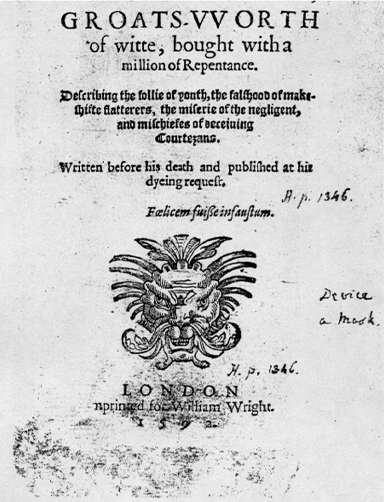 Title page of Greenes Groats-worth of Witte, STC 12245.
Internal evidence in the tracts, as well as the identity of Greene's dedicatees, suggests that 'Robert Greene' was a pen-name of Oxford's from 1580 to 1592. In 1592, Oxford abandoned the pen-name, partly as a result of the Harvey/Nashe quarrel. In Greene's Groatsworth Of Wit, Robert Greene's imminent demise was announced, and Oxford's new pen-name, William Shakespeare, was introduced in the well known passage:
Yes, trust them not for there is an upstart crow, beautified with our feathers, that with his tiger's heart wrapped in a player's hide, supposes he is as well able to bombast out a blank verse as the best of you, and being an absolute Johannes factotum, is in his own conceit the only Shake-scene in a country.
Disbelief that an embittered Robert Greene was the real author of Groatsworth has been expressed from the moment the tract was printed, as evidenced by the fact that Nashe defended himself against rumours that he was the author in an epistle to the second edition of Pierce Penilesse (1592):
Other news I am advertised of, that a scald trivial lying pamphlet called Greene's Groatsworth of Wit is given out to be of my doing. God never have care of my soul, but utterly renounce me, if the least word or syllable in it proceeded from my pen, or if I were any way privy to the writing or printing of it.
The next person to defend himself against the imputation that he was the author of Groatsworth was none other than Nashe's 'old compositor' (as he calls himself in Have With You To Saffron Walden), Henry Chettle, who, in Kind-Heart's Dream (1592) wrote:
About three months since died M. Robert Greene, leaving many papers in sundry booksellers' hands, among other his Groatsworth of Wit, in which a letter written to divers play-makers is offensively by one or two of them taken, and because on the dead they cannot be avenged, they wilfully forge in their conceits a living author, and after tossing it to and fro, no remedy but it must light on me.
Doubts about Robert Greene's authorship of Groatsworth have persisted to the present day.
WORKS WRITTEN BY OXFORD UNDER THE PEN-NAME 'ROBERT GREENE' AND WILLS OF DEDICATEES
1583
MAMILLIA; A MIRROR OR LOOKING-GLASS FOR THE LADIES OF ENGLAND
TNA PROB 11/44/187, last will and testament of Sir Arthur Darcy,uncle of Dorothy Neville, first wife of Oxford's father; uncle of Oxford's friend, Sir Arthur Throckmorton; uncle of 'Lord Darcy of the North', the dedicatee of Mamillia; and uncle of Sir Nicholas Saunders, the dedicatee of Greene's Vision
BORTHWICK INSTITUTE V19 F690, last will and testament of Anthony Stapleton of the Inner Temple, who acted as legal counsel to Oxford's father, John de Vere, 16th Earl of Oxford, and who was related to the dedicatees of both parts of Mamillia
1584
Last will and testament of Margaret, Countess of Derby, dedicatee of The Mirror of Modesty
1585
1587
Euphues His Censure to Philautus
Morando; The Tritameron of Love
The Second Part of the Tritameron of Love
1588
Last will and testament of George Clifford, Earl of Cumberland, dedicatee of Pandosto
1589
TNA PROB 11/17/267, will dated 4 August 1512 of Thomas Fogge, whose widow, by her second marriage, was the grandmother of Alice (nee Kempe) Hales Lee, the 'Lady Hales' to whom Robert Greene dedicated Menaphon
TNA PROB 11/27/500, will dated 28 November 1538 of Sir William Kempe, paternal grandfather of Alice (nee Kempe) Hales Lee, the 'Lady Hales' to whom Robert Greene dedicated Menaphon
TNA PROB 11/37/539, will dated 4 September 1554 of Sir Reynold Scott, uncle of Alice (nee Kempe) Hales Lee, dedicatee of Menaphon
TNA PROB 11/42B/105, will dated 6 December 1558 of Sir Thomas Cheyney, maternal grandfather of Alice (nee Kempe) Hales Lee, dedicatee of Menaphon
TNA PROB 11/43/638, will dated 24 August 1558 of Eleanor (nee Browne) Fogge Kempe, paternal grandmother of Alice (nee Kempe) Hales Lee, dedicatee of Menaphon
TNA PROB 11/43/127, will dated 30 March 1559 of Nicholas Boughton, uncle of Alice (nee Kempe) Hales Lee, dedicatee of Menaphon
TNA PROB 11/72/479, will dated 28 February 1568 of George Kempe, uncle of Alice (nee Kempe) Hales Lee, dedicatee of Menaphon
TNA PROB 11/53/261, will dated 8 August 1568 of Humphrey Hales, father-in-law of Alice (nee Kempe) Hales Lee, dedicatee of Menaphon
TNA PROB 11/75/265, will dated 15 March 1589 of Sir James Hales (d.1589), husband of Alice (nee Kempe) Hales Lee, dedicatee of Menaphon
TNA PROB 11/94/3, will dated 16 March 1598 of Anthony Kempe, uncle of Alice (nee Kempe) Hales Lee, dedicatee of Menaphon
TNA PROB 11/141/330, will dated 19 February 1623 of Anne (nee Kempe) Shirley, sister of Alice (nee Kempe) Hales Lee, dedicatee of Menaphon
Last will and testament of Ferdinando Stanley, dedicatee of Ciceronis Amor
1590
Will of George Clifford, Earl of Cumberland, dedicatee of Greene's Mourning Garment
PROB 11/101/101, will dated 11 October 1590 of Richard Burnaby, father of Thomas Burnaby, esquire, dedicatee of Greene's Never Too Late, Francesco's Fortunes, and A Quip for an Upstart Courtier, contributor of commendatory verses to Greene's Ciceronis Amor, and lessee of the Bear Garden in Southwark
TNA PROB 11/60/550, will dated 10 July 1578, of Edward Sapcote, father-in-law of Thomas Burnaby, esquire, dedicatee of Greene's Never Too Late, Francesco's Fortunes, and A Quip for an Upstart Courtier, contributor of commendatory verses to Greene's Ciceronis Amor (1589), and at one time lessee of the Bear Garden in Southwark
1591
A Notable Discovery of Cozenage
The Second Part of Cony-catching
1592
The Third and Last Part of Cony-catching
TNA PROB 11/53/491, last will and testament, dated 2 October 1570, of William Saunders of Ewell, grandfather of Sir Nicholas Saunders of Ewell, the dedicatee of Greene's Vision
TNA PROB 11/72/42, undated last will and testament of Nicholas Saunders (d. 17 December 1587) of Ewell, father of Sir Nicholas Saunders (d. 9 February 1649) of Ewell, the dedicatee of Greene's Vision
Last will and testament of Sir Charles Morison, whose daughter Bridget Morison, was the dedicatee of Philomela
Last will and testament of Jane Sibilla (nee Morison), whose niece, Bridget Morison, was the dedicatee of Philomela
A Disputation Between a He Cony-catcher and a She Cony-catcher The Black Book's Messenger
A Quip for an Upstart Courtier
The Repentance of Robert Greene
Last will and testament, dated 15 August 1629, of Robert Radcliffe, 5th Earl of Sussex, to whom Greene dedicated Thomas Lodge's Euphues' Shadow
1593
Greene's News Both From Heaven and Hell
MAMILLIA, THE SECOND PART OF THE TRIUMPH OF PALLAS
BORTHWICK INSTITUTE V19 F690, last will and testament of Anthony Stapleton of the Inner Temple, who acted as legal counsel to Oxford's father, John de Vere, 16th Earl of Oxford, and who was related to the dedicatees of both parts of Mamillia
The Anatomy of Lovers' Flatteries
1594
1599
1617